ABOUT

Foto: Stefan Esbjörnsson
"Party-reggae at it's very best."
Jonathan Leijonberg, Östersunds Posten
Ever tried mixing reggae and dub with a dash of rock n roll? Then you would probably end up with Dubkollektivet. The band has done almost one hundred gigs in Sweden during the last couple of years. Among them SR (Swedish Radio) P3 and P4 and festivals like Trästocksfestivalen, Öland Roots, Sundsvalls Gatufest and StorsjöYran.
Yes, there will be dancing…
"Dubkollektivet act experienced on stage and perform really high-class songs. Definitely a band to keep your eyes on."
Stefan Herdell, Länstidningen Jämtland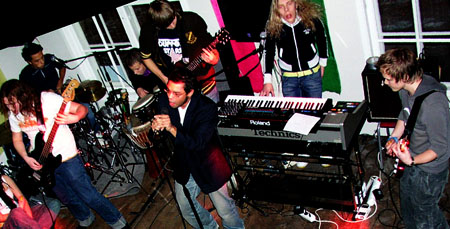 Foto: Stefan Gäfvert
Members:
Oliver Deutschmann - Lead singer, backing guitarist.
Jens Evaldsson - Bass.
Luc Deutschmann - Drums and backing vocals.
Viktor Knutsson - Lead guitar.
Jonatan Lilja - Rythm guitar.
Per Alexander Esbjörnsson - Keyboards, melodica and backing vocals.
Former Members:
Anna Gäfvert - Percussion.
Johan Tiger - Trumpet.
Lukas Ljungdahl - Lead guitar.